Aeronaut Software for Window Furnishings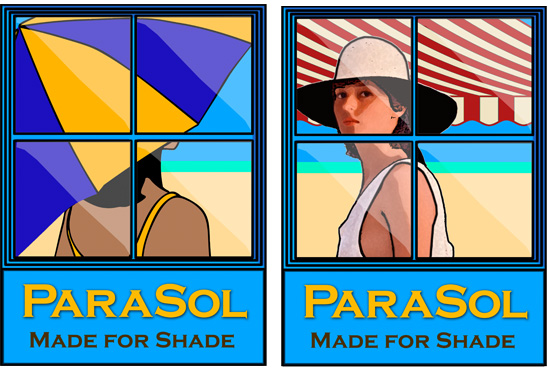 ParaSol is the new rapid patterning software for window furnishings and outdoor shade from Aeronaut Automation.
ParaSol is Made for Shade… a complete suite of software for fast and easy patterning of roller and roman blinds and shades, outdoor awnings, umbrellas, café curtains, screens, market umbrellas and marquees.
ParaSol builds on 15 years experience with the best-selling Aeroblinds and AeroAwnings software to deliver the most powerful, best featured and most user friendly shade design and production software around.
ParaSol has been been completely re-written to take advantage of modern computer technologies and interface developments to make the design and production process as fast and as simple as possible. ParaSol lets designers imagine any sort of shade with the confidence of knowing it will be produced the way they want.
A room full of roman blinds can be designed in a few seconds with an aesthetically pleasing batten lineup across all windows and doors irrespective of their height using ParaSols comprehensive and user friendly overrides.
ParaSol is simple and quick enough to be used alongside a cutting station by the machine operator… a single pattern may only take 15 seconds… or ParaSol can be used in the design office and patterns queued up and sent to the cutting station. ParaSol can also be run invisibly in the background, driven by your order management software and queues of patterns sent automatically for cutting with no operator intervention.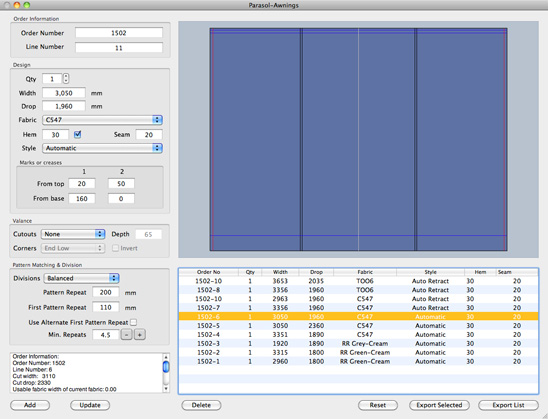 ParaSol is flexible enough to work the way you do. Pattern sizes can be entered in many ways… enter the cut size or enter the window size and let ParaSol make deductions and additions based on your fabric and styles to give you mistake-free and consistent patterns, however big your work-load. ParaSol works with plain and patterned fabric, woven, mesh and clear to give you the flexibility to handle any job.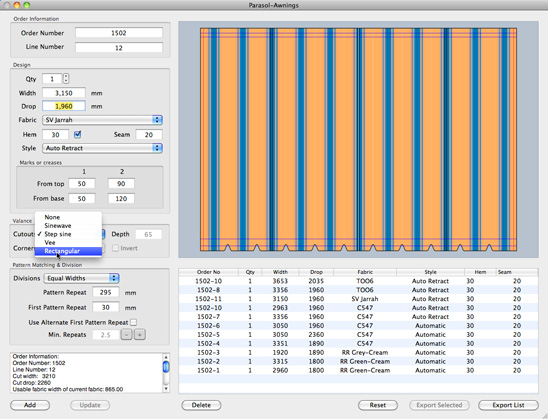 Pattern designs can be a simple or as complex as you want. ParaSol is intelligent enough to understand factors like shrinkage and stretch, the way fabric thickness affects batten allowance and even the way that a design with many battens will stretch more than a design with only a few. Individual designs can be very easily programmed to override global variables so that selecting a design from a menu controls all the variables for consistent products.
Styles and fabric databases are managed with ParaSol's data browser windows or you can edit or backup ParaSol's databases in external software like Excel or Numbers in csv (comma delimited text) format. Since individual fabrics need different cut and crease speeds and pressures, ParaSol links with templates from Aeronaut's nesting software, Tangent, so that selecting a fabric will ensure the right parameters are used for cutting whether you are using blade, laser, crush or ultrasonic cutting.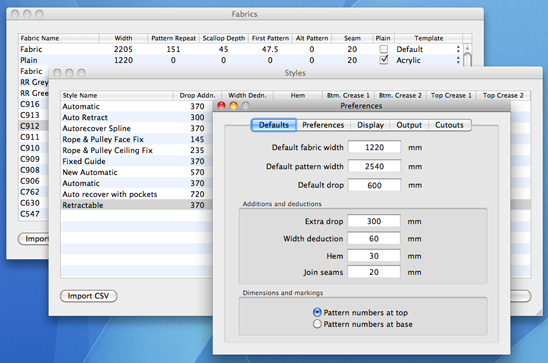 With ParaSol, you are in control and independent of outside software. All pattern design information and all the fabric and styles databases are in text format so you can edit them in-house. Of course, you can also get specialised designs programmed by Aeronaut.
Using ParaSol's Automatic Data Entry (ADE) feature, simple text-based order information can be imported by ParaSol to automatically generate patterns with no user intervention other than exporting data from order management software. ADE streamlines the order process so that ParaSol remains an invisible background application between the front office and the cutting station. ADE input files can be generated by almost all order management software, spreadsheets and word processors.
Pelmets, shaped valances, cut-outs, swags, ties, centre-pulls, inserted panels, internal cutouts… ParaSol has huge set of built-in features covering almost every imaginable type design.